LIXIL FYE2022 Revenue and Profits Rise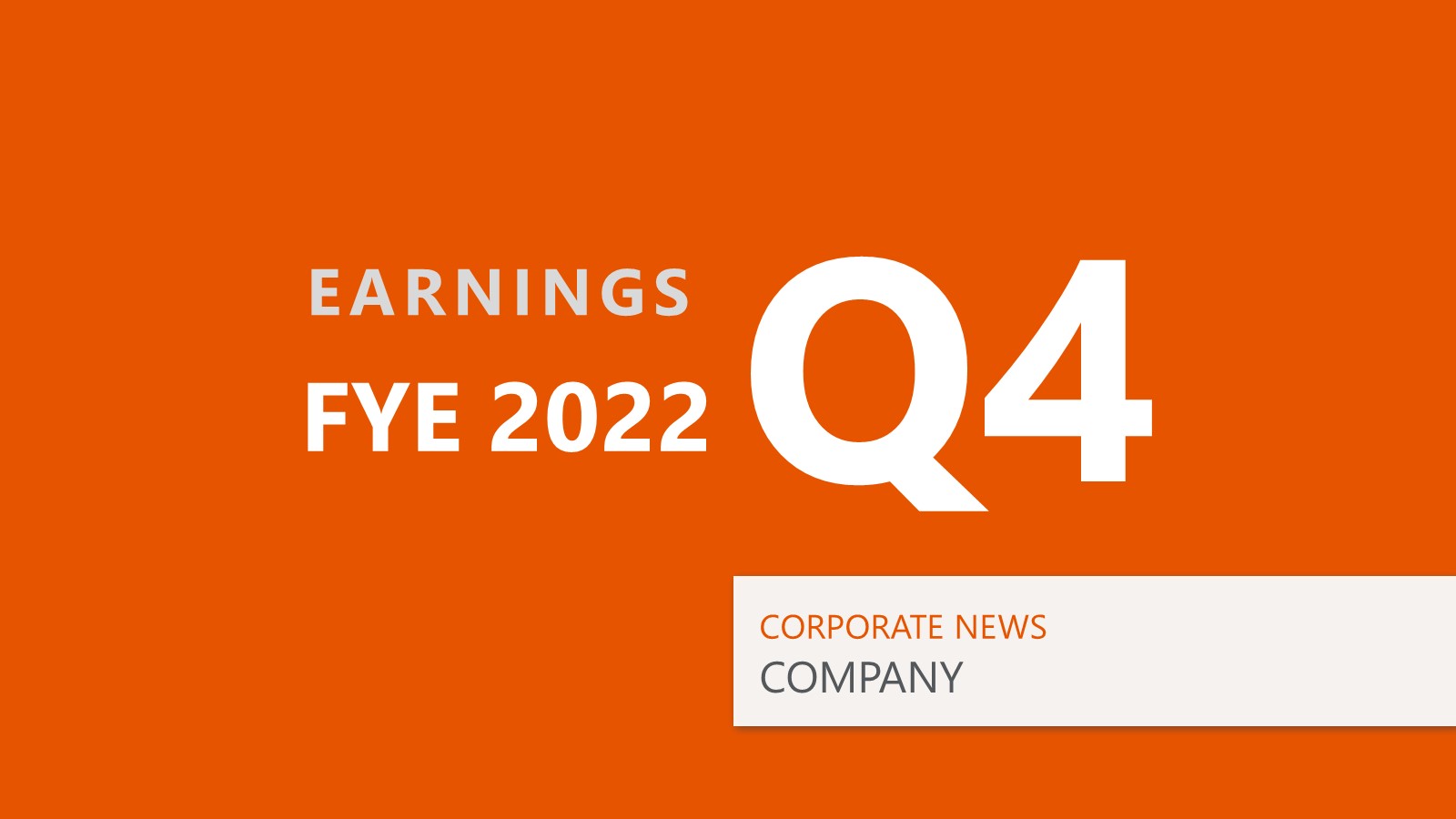 ・Revenue rises on continued robust sales in the Americas and Europe and economic recovery in APAC despite Japan business partially impacted by procurement difficulties and logistics disruption

・All profit levels rise year over year, despite intensified increase in material costs and additional costs to ensure a stable supply of products in Q4 suppressing core earnings below guidance
Tokyo – LIXIL Corporation ("LIXIL", TSE Code: 5938), maker of pioneering water and housing products, today announced its full-year results for the fiscal year ended March 31, 2022.

CEO Statement:
"We are pleased to deliver year-on-year revenue and profit growth and have significantly improved our financial position despite the extremely challenging operational environment in the fourth quarter. Our US and European business achieved double-digit growth while our APAC business is continuing to recover from the impact of COVID-19. However, soaring raw material costs, distribution costs, and response costs to supply chain disruptions weighed on our bottom line in the fourth quarter. To combat these challenges, we are taking measures including timely price increases, shifting to high-value added products, and switching to alternative materials. We are also building a more agile and resilient supply chain and production system to deliver for our customers. At the same time, we are accelerating development of products that reduce environmental impact and contribute to a circular economy to help protect the planet and capture emerging business opportunities.

In the last fiscal year, we made steady progress against our mid-term financial targets. This reflects the progress we have made in our strategic initiatives set out in our management direction, as well as our increased agility and resilience. While an uncertain operating environment is likely to persist, I am confident we will be able to achieve sustainable growth for the long term. With our commitment to our corporate responsibility goals, we will continue to enhance the value we create for our stakeholders and ultimately deliver on our corporate purpose of making better homes a reality for everyone, everywhere."
- Kinya Seto, CEO, LIXIL
Full-Year Financial Highlights

Revenue
Despite a slowdown in the fourth quarter due to procurement difficulties that affected parts of the Japan business and logistic disruptions, consolidated revenue for the fiscal year increased 4% year over year to ¥1,428.6 billion driven by continued strong performance of LIXIL's Americas and European business. Revenue from the Japan business decreased 2% year over year to ¥996.2 billion due to the impact of divestments in the previous fiscal year. Excluding the impact of the divestments, revenue rose 1%. Revenue from international operations increased 18% year over year to ¥452.3 billion, supported by a robust performance of the Americas and European business.

Core Earnings
Core Earnings decreased year over year in the fourth quarter due to intensified increase in material costs as well as additional costs to ensure a stable supply of products. However, core earnings for the fiscal year rose by ¥7.6 billion to ¥64.9 billion due to sales increase in Europe and the Americas, price optimization, reduction in SG&A expenses, and progress in structural reforms. Gross profit margin was 34.1%, and core earnings margin increased by 0.4pp to 4.5%. SG&A expenses rose by ¥10.1 billion year over year for the fiscal year due to sales growth, but the SG&A ratio improved by 0.3pp.

Net profit attributable to owners of the parent including discontinued operations
Net profit increased by ¥15.6 billion to ¥48.6 billion as a result of reduced volatility in business performance due progress in structural reforms and focus on core businesses.
Consolidated Financial Position
Equity ratio rose by 2.6pp to 34.3%, hitting the fiscal target of 34%. Net debt-to-EBITDA ratio improved to 2.9. On track to reach its medium-term goals of strengthening its balance sheet and improving profitability, LIXIL has decided to complete share buybacks and cancel treasury shares to improve capital efficiency and enhance shareholder returns.

Year-End Dividend Forecast
LIXIL has raised its year-end dividend forecast by five yen to ¥45. Annual dividend per share is estimated to be ¥85, an increase of 10 yen.
FYE2023 Full-Year Forecast
LIXIL expects to generate ¥1,520 billion in revenue and ¥81 billion in core earnings with a core earnings margin of 5.3%. The company intends to further increase the annual dividend by five yen to ¥90 per share.

Performance by Business Segment and Region
In LWT's Japan business, despite the procurement difficulties that affected parts of the Japan business, sales increased 2% year over year on the back of strong demand for mid- to high-end price range products and renovation. Sales of products equipped with touchless faucets continued to perform strongly due to increased interest in hygiene. Amid the challenging operational environment, the businesses' core earnings increased 7% year-over-year due to a higher ratio of renovation-related sales and sales of products in the mid- to-high-end price range and reduction in SG&A expenses, as well as price optimization against continued rise in raw material prices. Core earnings margin was 8%. The ratio of renovation-related sales increased by 2.0pp to 47%.

Revenue of LWT's international business increased by 19%, driven by the strong performance of the Americas and European business. In the Americas, sales grew 13% year over year, exceeding the pre-COVID level. All product categories and sales channels performed well, with the wholesale channels particularly strong. Sales in EMEA markets increased 15% year over year, rising above its pre-COVID level. Sales grew in all sales channels with wholesale channels and e-commerce continuing to perform strongly. Sales in China increased 1% with GROHE products performing strongly in retail channels. In the Asia Pacific region, sales rose by 15% due to the recovery of economic activity in India and Indonesia. While Vietnam continues to recover, its fiscal year performance was affected by the COVID-19 lockdowns. Core earnings of the international business increased by 39% due to robust sales in the Americas and Europe, as well as price optimization and increased cost efficiency, including SG&A expenses. Core earnings margin of the business rose by 1.4pp to 9.7%

Sales of LIXIL Housing Technology's (LHT) Japan business increased 3%, excluding the impact of divestments in the prior fiscal year, due to higher renovation demand driven by the new lifestyle in the pandemic and increased time spent at home. TOSTEM brand's products for renovation performed strongly with sales of Rechent doors and Inplus windows, rising 12% and 20%, respectively. Sales of IoT-enabled Smart Delivery Boxes increased 44%. Amid intensifying inflation in the fourth quarter, LHT's core earnings decreased 10% year over year despite continued structural reforms and reduction in SG&A expenses. LHT's core earnings margin was 6%. The ratio of renovation-related sales increased by 1.6pp to 34%.
Business and ESG Highlights

LIXIL is making progress with priority initiatives to achieve sustainable growth for the long term and accelerating ESG initiatives to enhance the value it creates for stakeholders.
Accelerating Growth of International Water Technology Business
As part of its strategy to meet specific needs of customers and each end-user segment, LIXIL's GROHE brand launched GROHE Professional in EMENA, targeting professional installers and their end-user clients. The new sub-brand follows the successful launch of another sub-brand GROHE QuickFix that responds to growing do-it-yourself (DIY) demand. Designed to make plumbers' everyday work as easy and efficient as possible amid labor shortages, GROHE Professional provides them with a dedicated product portfolio and the GROHE+ program, a comprehensive service package that includes training. The GROHE brand has also expanded its GIVE program (GROHE Installer Vocational Training and Education) to nurture the next generation of plumbers, supporting plumbing schools across EMENA and helping the students gain work experience or placements after graduation. Through this holistic approach, the GROHE brand looks to strengthen brand loyalty and expand cross-selling and upselling opportunities, as well as contribute to the sustainable growth of the industry.
Establishing a Foundation for Long-Term Growth Through Innovation
LIXIL is innovating new business models outside of its existing business areas, leveraging its strengths and expertise. One such example is LIXIL Toilet Cloud, a recently launched subscription-based service. Utilizing IoT technology, LIXIL Toilet Cloud is designed to help facility managers clean public toilets more efficiently. LIXIL's proprietary AI monitors toilet usage, processes the usage data in real time, and presents the most efficient cleaning process on the smartphone screen based on the actual toilet usage on that particular day. Also bundled are optional inspections and repair services. In a validation test jointly conducted with West Japan Railway Company, LIXIL Toilet Cloud successfully reduced the number of scheduled cleaning when the railway's service provider followed the optimized cleaning processes suggested by the application.

Accelerating Digital Transformation to Improve Customer Journey
LIXIL is transforming its existing business by introducing innovative digital tools to enhance customer experience and customer journey. Following the launch of the LIXIL Online showroom in Japan and GROHE X, a digital hub, the company has unveiled the video platform LIXIL-X in Japan. LIXIL-X offers a variety of video content, including latest product showcases and installation and maintenance guides. In the Americas, LIXIL has introduced new digital tools on its brands' websites, including American Standard, to present innovative ways for consumers to explore, be inspired and shop. The features include shoppable looks, 3D product photos, and augmented Reality (AR), and a customization visualizer that allow consumers to build the bathroom or kitchen of their dreams. As they engage with these applications, LIXIL's team of design specialists are available through virtual conferencing, chat messaging, phone or email to assist them through all customer journey stages.
Improving Global Hygiene and Sanitation
LIXIL is committed to improving the livelihoods of 100 million people through hygiene and sanitation solutions by 2025. To this end, LIXIL and the U.S. Agency for International Development (USAID) have officially launched Partnership for Better Living: Affordable, Accessible, Adaptable Sanitation Solutions. Under this new, five-year cooperative agreement, LIXIL is awarded approximately $10 million by USAID to expand the market for affordable sanitation and hygiene solutions and to improve the availability of its SATO products and the reliability of supply chains for underserved communities in developing economies. Leveraging the unique expertise, resources, and reach of USAID and LIXIL's SATO toilet and handwashing solutions to further their joint mission to strengthen sanitation and hygiene among the most underserved populations around the world with a market-based approach, the partners aim to improve sanitation and hygiene for at least two million people in up to 11 countries by 2026.

*Please see disclosures here.
-End-
Related articles