LIXIL is taking New Steps to Improve Global Sanitation for World Toilet Day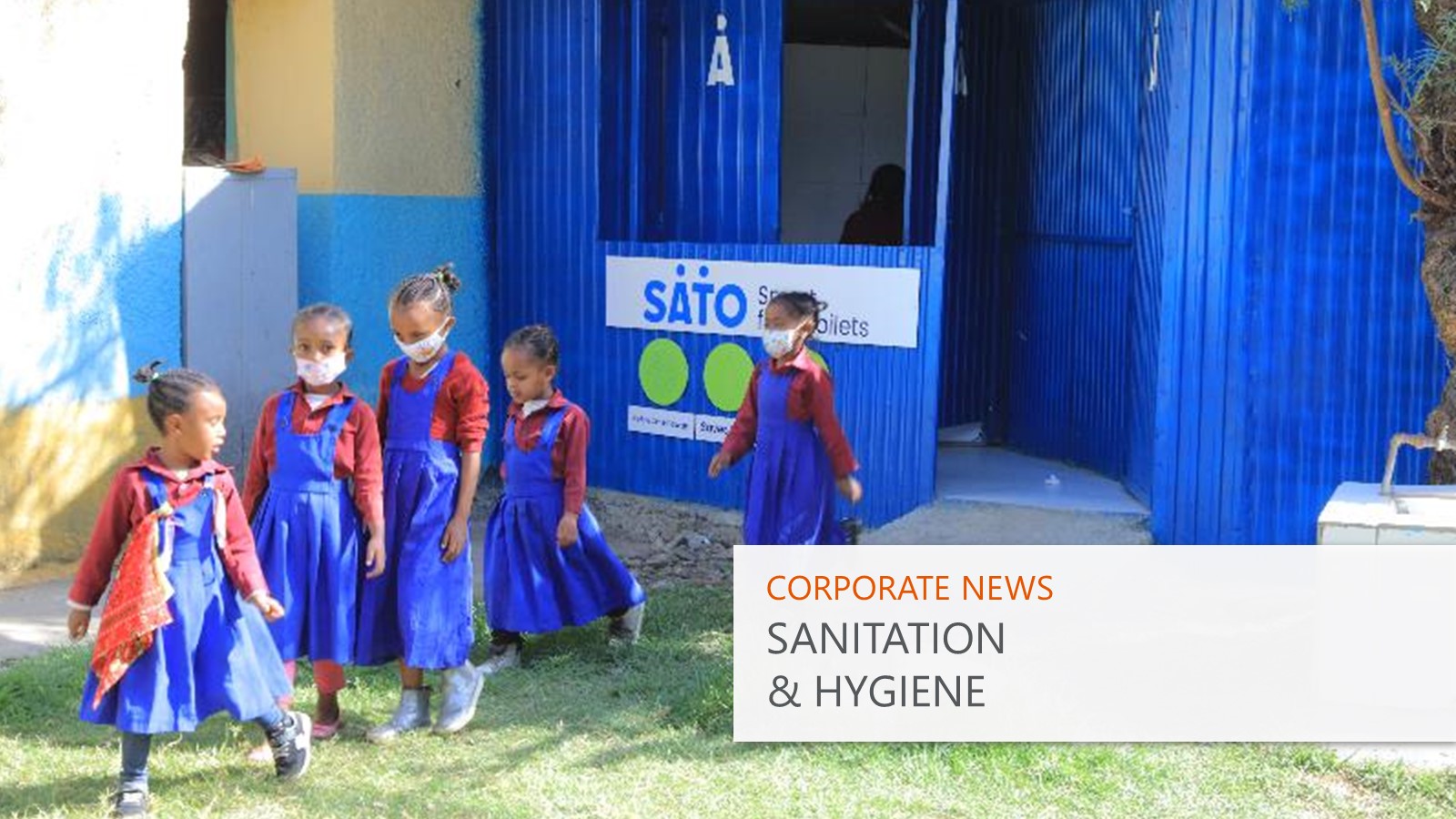 • LIXIL's sanitation initiatives have positively impacted 35 million people in 45 countries to date; targeting 100 million people by 2025
• LIXIL continues to maximize its impact through collaboration by marking the day with the start of its partnership with FINISH Mondial
• Newly launched CRM campaign "Minna ni Kirei Wo" Project and LIXIL EMENA's successful "Energy for Life" campaign contributes to the LIXIL and UNICEF 'Make a Splash!' partnership
Tokyo – LIXIL, maker of pioneering water and housing products, has impacted 35 million lives in 45 countries worldwide.¹ The company marks this year's World Toilet Day on November 19th, by scaling up efforts to build sustainable sanitation economies at regional and country-levels.

Established as one of its three focus areas in the CR strategy, LIXIL's sanitation initiatives aim to innovate solutions to improve sanitation and hygiene for 100 million people by 2025. LIXIL's SATO brand specializes in developing innovative and affordable toilets and handwashing solutions for underserved consumers around the world, and partners with organizations, and entrepreneurs, both globally and locally to increase the availability of products.

The UN's Sustainable Development Goal (SDG) 6 seeks to ensure access to water and sanitation for all by 2030. According to the UN, however, at the current rate of progress, 2.8 billion people will still not have access to safely managed sanitation services in 2030. Progress must be accelerated in the coming eight years, it states, in some areas up to four times faster.² In recognition of the urgency, the UN is promoting global efforts and is calling public and private players to join their efforts to make clean water, sanitation and hygiene accessible to all.

"Our goal is to create sustainable markets by collaborating with public and private organizations worldwide. Cross-sector collaboration is fundamental to building sustainable supply chains and financial markets. LIXIL wants to positively impact lives and homes with its expertise, because we make better homes a reality for everyone, everywhere. Making sure everyone has access to basic sanitation and ensuring wellbeing is part of bringing our purpose to life." says Jin Montesano, Chair of LIXIL's Corporate Responsibility Committee.
LIXIL Signs MOU with FINISH Mondial to bridge the affordability gap and scale up sanitation in service of SDG 6
FINISH Mondial, based in the Netherlands, has since 2009 envisioned a world in which people are financially included and have access to sustainable sanitation. The public-private partnership currently works to financially empower underserved communities and businesses to scale sanitation, and has helped construct 1.5 million safely managed toilets, impacting 7.5 million people, to date. By 2025, FINISH Mondial is set to become a €440 million sanitation program, enabling it to build 3 million toilets and impact 15 million people in total. ³

"Affordability is a substantial barrier to both households and entrepreneurs in improving sanitation and growing a sanitation business. Building on smaller, local finance partnerships in SATO, FINISH Mondial is our first collaboration aimed at unlocking financial access at a global scale and will drive innovation in climate-resilient, gender and socially inclusive sanitation systems," highlights Erin McCusker, Leader of SATO.

LIXIL and FINISH Mondial have agreed to engage in mutually beneficial activities that will increase the supply, availability, affordability and integration of SATO products in safely managed sanitation systems, particularly in Africa and Asia. This will include the development of affordable solutions, such as bundling toilet components, installation services and financial products for households and local suppliers. LIXIL and FINISH Mondial will also collaborate on a range of other activities, including research and development, and accelerating supply and demand for sanitation.
In Europe and newly launched in Japan, CRM campaigns are supporting the UNICEF and LIXIL 'Make a Splash!' Partnership
Last year, LIXIL ran its "Energy for Life" GROHE brand CRM (cause related marketing) campaign in 13 countries across Europe, Middle East and North Africa. The 1.2 million euros collected through the campaign will be applied to support partnership activities in Indonesia and Nigeria. In Nigeria alone, this contribution will help reach more than 1.75 million people gain access to improved sanitation. In Indonesia, the campaign will strengthen the sanitation market to offer enhanced access to safely managed sanitation services to about 250,000 people, especially in the peri-urban communities, and enable many more once the model is taken to scale. (Press release)

This October, Japan also brought back a CRM "Minna-ni-kirei-Wo" project (Clean for All project) and will donate $1 for every eligible product purchased in Japan to its 'Make a Splash!' partnership with UNICEF. Funds raised will be used to support the partnership's activities in Kenya.
The new campaign builds on LIXIL's previous "Toilets for All" CRM campaign in Japan, which helped raise funds but also enabled LIXIL's customers and consumers to directly contribute to a greater social cause. Eligible products include LIXIL's integrated shower toilets and touchless faucets, with funds used to contribute to school sanitation programs, installation of safe toilets, training of installers, and for sanitation awareness activities and education.
Read more here: "Minna-ni-kirei" project website (Japanese only)

LIXIL and UNICEF launched the 'Make a Splash!' partnership in 2018, aiming to build viable sanitation and hygiene markets serving millions of people - by expanding the availability, affordability and quality of goods and services.
LIXIL's SATO will be participating in the World Toilet Summit 2022 to help eliminate open defecation in Nigeria
The 2022 World Toilet Summit brings together the OPSWASH (Organized Private Sector in Water, Sanitation and Hygiene) community including policymakers, non-profit organizations, and other sector leaders to address the sanitation crisis that affects 3.6 billion people worldwide.

This year's theme - Sanitation Innovations for Economic Development - explores the need for increased funding and collaboration. It will be held in Nigeria to provide improved, innovative toilets, and a sanitation system that achieves an end to open defecation.

As part of its contributions and efforts in Nigeria, SATO is working with partners to scale up its distribution and manufacturing efforts to increase the availability of its award-winning tap and toilet products in the country. These efforts include training the next generation of highly skilled masons throughout Nigeria, ensuring they are equipped to install SATO toilets in their communities, while establishing supply chain and creating employment opportunities.
¹ Estimated based on the average household size of six users per every SATO unit shipped, as of April 2022
² Sustainable Development Goals Report 2022 (United Nations): https://unstats.un.org/sdgs/report/2022/The-Sustainable-Development-Goals-Report-2022.pdf
³ Pioneering Green Partnerships, Investing in Impact: https://p4gpartnerships.org/pioneering-green-partnerships/all-p4g-partnerships/finish-mondial , Finish Mondial website: https://finishmondial.org/ambition/
Related articles