LIXIL Opens New Global Headquarters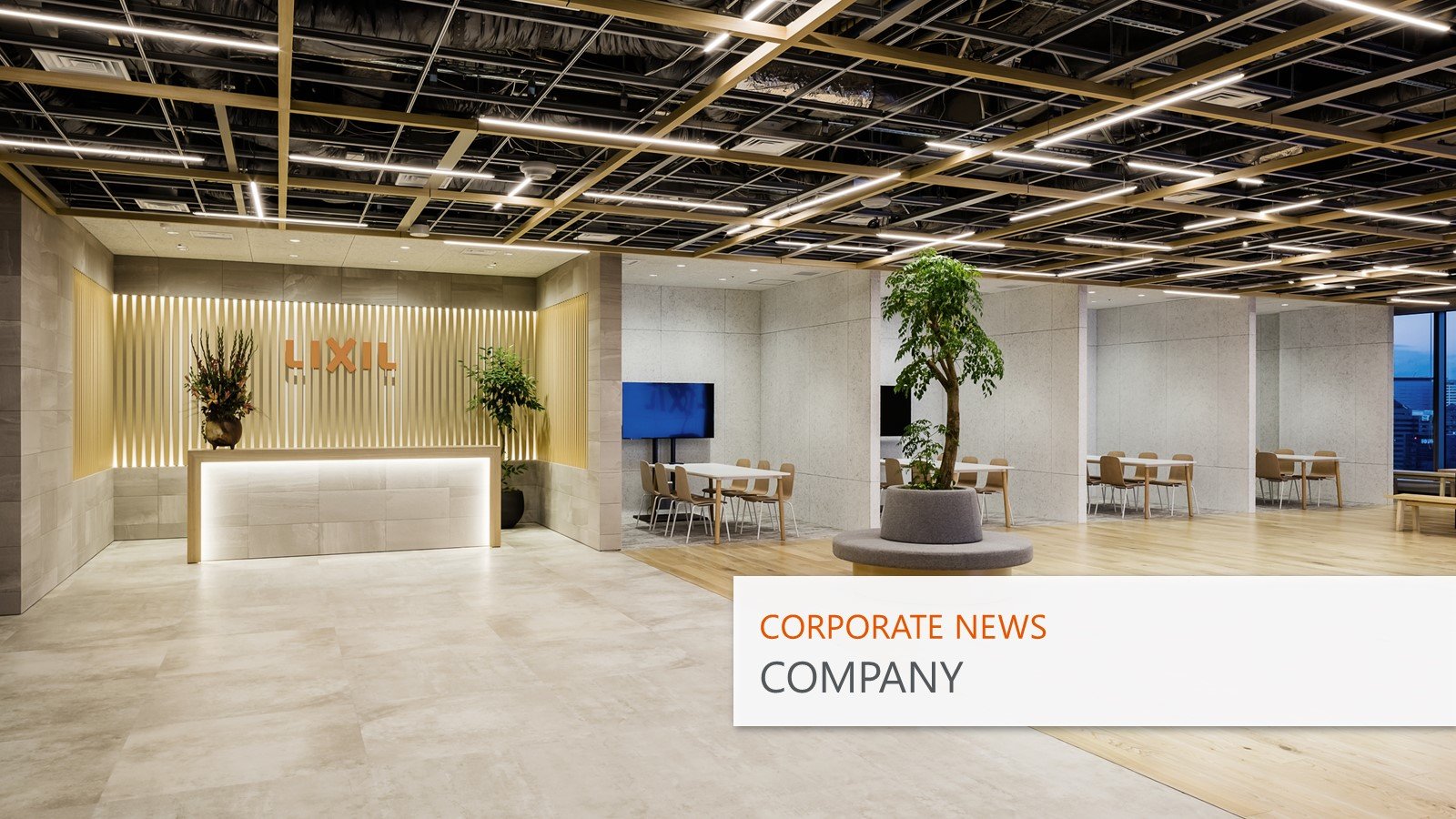 A Place of Communication and Collaboration Transforming How We Work

Tokyo – LIXIL, maker of pioneering water and housing products, started operations at its new global headquarters in Osaki Garden Tower today. While employees will continue to work from home on a regular basis, the new headquarters is designed to encourage closer personal interaction - redefining the office as a place to foster communication and collaboration.
Over the years, LIXIL has been transforming its working style to better embrace individual lifestyles and ways of working to improve engagement and productivity. Although some types of work require employees to be on-site, such as production and logistics, a wide range of positions are now performed from home. Today, only 8% of headquarter employees regularly commute to work.

With such developments, the role of the workplace has changed decisively for LIXIL. Communication and collaboration are focal to the new headquarters; the office is no longer a place where employees commute to a desk at a designated time to work on their own, but instead a space that sparks team-based productivity and creativity.

LIXIL President and CEO Kinya Seto commented, "At LIXIL we have embraced new ways of work that meet the diverse needs and lifestyles of our employees. We continue to build an inclusive working environment that enables everyone to reach their full potential by giving them control of how they structure their day. Moving to the new LIXIL headquarters is part of our workstyle transformation that will take us further on our journey to become an agile and entrepreneurial organization – it will be a place where open communication and lively collaboration is welcomed, just like a home for everyone."
As part of fostering an inclusive work environment that helps employees manage their work-life balance, LIXIL is promoting "Activity Based Working (ABW)", which enables employees to select a suitable place and time for the task or work at hand. Places of work have also diversified for employees who previously commuted to its headquarters. Thus, LIXIL has reduced its capacity and redesigned the office to meet evolving needs of employees. This includes securing separate sites in Tokyo designed for employees who require fixed seats and tools to work, as well as an R&D and Design Center for a wide range of creative work and product innovation.
With the concept "a home away from home," LIXIL's new headquarters is located close to Osaki Station. Not far from Shinagawa Station and Haneda Airport, it is accessible from central Tokyo, and convenient for domestic and international travel. The office space has been designed to welcome all employees to actively and comfortably take part in their work, with a concept that focuses on four areas: productivity, wellbeing, flexibility, and engagement. The open space is consciously designed to invite employee interaction and to nurture a sense of home. Resembling the ambiance and comfort of a living room, it also includes various types of spaces to cater to differing needs and preferences, while facilitating communication and collaboration. These include hybrid-style meeting rooms that combine the functions of remote and in-person meetings, and meeting spaces for small group discussions to mid-sized cross-functional team gatherings – places that bring out and encourage the exchange of ideas.
LIXIL Headquarters
Address: Osaki Garden Tower, 1-1 Nishi-Shinagawa 1-chome, Shinagawa-ku, Tokyo
Office area: 24F (5,500 square meters)
Seating Capacity: 500 seats
Related articles